about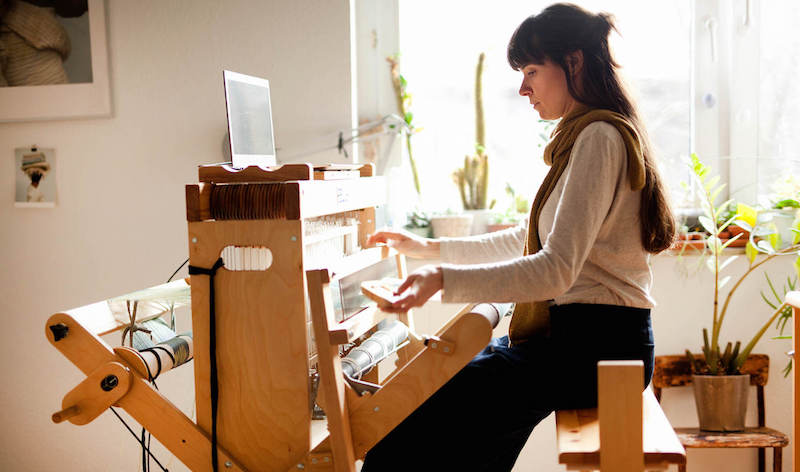 Nicole's work is influenced by her fascination with anthropological, ethnological, sociological, and botanical research, as well as her passion for experimental material studies.
Her main focus is on translating knowledge, emotions, and observations into visually and tactically engaging experiences, primarily through weaving and other textile techniques. The artwork encompasses a range of scales, from small and intricate pieces to larger installations, showcasing both cumulative compositions and unique one-of-a-kind creations. In addition to her artistic pursuits, she offers custom work, assistance, and prototyping for textile solutions:
Whether it's designing textiles for aesthetic purposes or finding technical solutions in woven fabrics, she brings her expertise and creative approach to meet individual needs.

Furthermore, Nicole has valuable experience in teaching, sharing her passion for textiles and nurturing talent through engaging workshops and educational initiatives.

Nicole is currently working and living in Hamburg, Germany.
education
2014 - 2017 MA design, HAW Hamburg
2010 - 2014 BA textile design, HAW Hamburg
2009 - 2010 art history & indology, University of Hamburg
awards, nominations, grants & important events

2022 _ Fabricademy Bootcamp Geneva, Switzerland
_ attending to four Fabricademy 22/23 programm assingments:
State of the Art, Biochromes, Biomaterials & Implications/Applications

2021 _ lecture textile design for BA-students, HAW Hamburg

2019 _ research work in Chiang Mai Thailand
_ artist in residence Refugium, Trafaria, Portugal
_ artist in residence Künstlerhäuser Worpswede

2018 _ artist in residence Prisão Paraíso, Trafaria, Portugal
_ German Design Award - Newcomer 2019, nominee
_ grant Unseren Künsten, Claussen-Simon-Stiftung, Hamburg
_ winner 'Ausgezeichnet'

2017 _ Justus Brinckmann Förderpreis 2017, nominee

2016 _ research grant IKAT/eCut, Thailand

2015 _ Bayerischer Staatspreis für Nachwuchsdesinger 2014, winner
selected exhibitions & events
2023 _ Im Süden von der Elbe** - HyCP Veddel Space, Hamburg
_ Imagine Transparency - Jupiter, Hamburg

2022 _ Zukunftsstoffe – Innovationen im Textildesign, Zentrum für Design Hamburg
_ Textile Studien des Zufalls, Buchhandlung Langenkamp
_ Feinwerk 2022, Schloss Fasanerie, Fulda


2020 _ RE-MEMEBER, K3 Tanzplan Hamburg

2019 _ Soft Design Dialog, guest contribution and lecture, Chiang Mai, Thailand
_ M19, Villa Metzler, Frankfurt am Main
_ Neue Einheit, Hamburger Architektur Sommer 2019, Raum LinksRechts, Hamburg
_ alles andere als rosa, Hallo:Festspiele, Kraftwerk Bille, Hamburg
_ TALENTE 2019, internationale Handwerskmesse 2019, Munich

2017 _ Messe Kunst und Handwerk, Justus Brinckmann Förderpreis 2017, Museum für Kunst und Gewerbe, Hamburg
_ alles andere als rosa, Xpon-art gallery, Hamburg

2015 _ ETC. PP, Fernando de Brito & Nicole Kiersz, less political-coffee cotton causes, Hamburg

_Bayerischer Staatspreis für Nachwuchsdesinger 2014, BMW Museum, Munich & Coburger designtage, Coburg
selected clients & cooperations
House of All -
HALL 4 Circularity / Open Lab Circular Textiles
Medskin Solutions Dr. Suwelack
HAW Hamburg
Aiko Tezuka - Fine Artist
Annette Guther - Costume Designer
Karo Meta Butzert - Interior Designer
Teresa Hoffmann - Choreographer and Dancer
Svenja Keune - Designer & Researcher
You can find an interview here
and feel free to reach out!